U-1-25 - Single 2½" mounting clip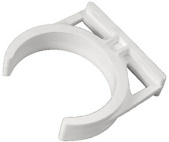 Product description
Single mounting holder, used in reverse osmosis systems for 2½" in-line cartridges or osmotic membrane housing assembly.
Single clips are most commonly used for attaching osmotic membrane housing to flat area like mounting bracket used in reverse osmosis system.
Sufficient stiffness is provided by specially made handle with technological profile reinforcements.
Similar products