PPK11 - Mounting bracket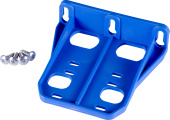 Product description
Universal mounting bracket used to attach single standard housing to the wall or to other vertical surface. PPK11 makes that the pipe and threads in housing's head are relieved.
Thanks to its construction, this mounting bracket has high durability, high rigidity and resistance to breaking.
PPK11 fit to almost every 10" filter commercially available.
Similar products