UV-TRAN - Transformer for UV lamps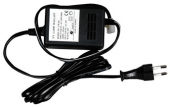 Product description
Transformer for UV lamps.
UV lamps use UVC radiation of a wavelength of 253,7 nm which effectively destroys microbial DNA and RNA. It is the safest and most effective method of disinfection, it does not require the use of any chemicals, so does not cause adverse changes in the chemical composition of water and any other side effects.
Transformers are available in power ratings of 6, 16, 25, 30 and 55W.
Related products