UV BULBS - UV Lights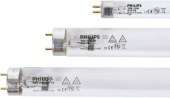 Product description
Philips bulb for UV lamp is a bactericidal product which eliminates algae, fungi, bacteria and viruses from water with an accuracy of 99.999%. In the selection of this type of lamp have to take into account the maximum water flow which affects the sterilization effectiveness. You should also take into account the amount of bacteria shown in the results of water testing by the water distribution company or sanitary inspectorate.
UV lamps use UVC radiation of a wavelength of 253,7 nm which effectively destroys microbial DNA and RNA. It is the safest and most effective method of disinfection, it does not require the use of any chemicals, so does not cause adverse changes in the chemical composition of water and any other side effects.
UV Bulbs are available in power ratings of 6, 16, 25, 30 and 55W. UV24G-M - UV60G-M lamps are using multiple 55W bulbs. Service life of each bulb is estimated at 8000 h.
Related products